07/23/2018 20:00
"Absolute Summon" with "Parchment Pieces" (Updated 1/17/2019)
Thank you for playing "SHIN MEGAMI TENSEI Liberation Dx2".
Here we would like to tell you about the finer points of "Absolute Summon" with "Parchment Pieces".
A
"Parchment Piece"
will be sent to your Giftbox every time you summon a demon with Featured Summons. You can perform the following summon by using "Parchment Pieces".
*Please get the "Parchment Pieces" from your "Giftbox" before summoning.
<Absolute Summon>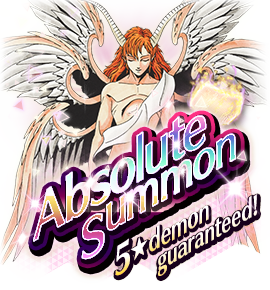 200 Parchment Pieces/1 summon
Available demons: 5★ rarity demons only
Please Note
-The Ultimate Summon that was able to be performed with 50 Parchment Pieces is no longer available. (Updated 1/17/2019)
-Please check the in-game info screen for details on demons and drop rates.
-Please note that there may be changes made without prior notice.
-"
SHIN MEGAMI TENSEI Liberation Dx2
" Operations Team