Thank you for playing "SHIN MEGAMI TENSEI Liberation Dx2".
Here we would like to introduce to you our upcoming "The Great Spring Summon" that has an increased drop rate for Fiend and Hero demons.
Schedule
Start: 3/27 (Wed) 23:00 PDT
End: 4/19 (Fri) 7:59 PDT
Detailes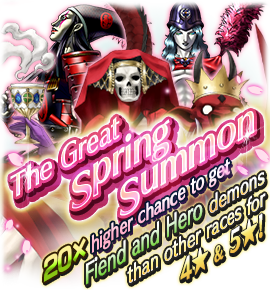 - Cost: 100 Gems per summon
- There is no limit to the amount of times
this summon can be performed
- The lineup includes Fiend Mother Harlot
and Reaper Demons!
Please Note
- Please check the info page within the game for details on available skills and drop rates.
- Please note that the Sales Period may be changed without prior notice.
-"SHIN MEGAMI TENSEI Liberation Dx2" Operations Team