Summon rare demons such as
General Masakado and Reaper demons!
Schedule
Start:
End:
*During the period shown above, the normal Gem Summon will be unavailable.
Summon Lineup
The following demons will be added to the normal Gem Summon lineup.
5★ General Masakado (GRADE 98)
5★ Fiend Mother Harlot (GRADE 95)
5★ Reaper Mot (GRADE 91)
5★ Hero Guan Yu (GRADE 85)
5★ Reaper Ixtab (GRADE 84)
5★ Reaper Nergal (GRADE 82)
5★ Fiend Daisoujou (GRADE 81)
5★ Reaper Orcus (GRADE 80)
4★ Fiend Matador (GRADE 73)
4★ Reaper Persephone (GRADE 72)
4★ Vile Mishaguji (GRADE 65)
4★ Reaper Chernobog (GRADE 64)
4★ Reaper Hel (GRADE 60)
Cost and Bonus Item
| | |
| --- | --- |
| Cost | 100 Gems per summon |
| Limitation | None |
| Bonus Item | 1 Parchment Piece per summon |
Check this out as well!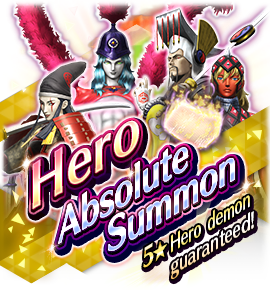 Available for up to 2 times at the cost of 200 Parchment Pieces!
Guan Yu or Yoshitsune or Huang Di or Rama or Siegfried guaranteed!
Please note that there may be changes made without prior notice.
A bonus "Parchment Piece" item will be sent to your Gift Box with every summon.
The amount of "Parchment Piece" items you possess can be confirmed in Items.
The summons mentioned above may become available again in the future.
Please check the info page within the game for details on available demons and drop rates.
It may take some time for the data of this Summon to be loaded to your device after being made available, so please make you have the latest data on your device before summoning. If you do not have the latest data on your device, please reboot the game and try again.
-"SHIN MEGAMI TENSEI Liberation Dx2" Operations Team