Thank you for playing "SHIN MEGAMI TENSEI Liberation Dx2".
Here we would like to introduce to you our upcoming Featured Summons lineup.
Featured Summons will become available after the purchase of certain Packs or Gems.
You can also try out Featured Summon with a one time only Trial Featured Summon at the price of 100 Gems.
Don't miss this chance to check out this special Summon!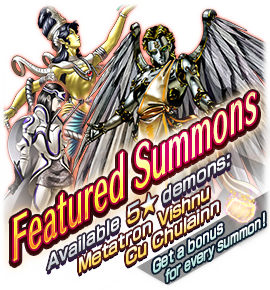 Schedule
8/10/2018 (Fri) 00:00 PDT - 8/16/2018 (Thu) 23:59 PDT
Parchment Pieces
A "Parchment Piece" will be sent to your Gift box every time you summon a demon through Featured Summons. ->
Trial Featured Summons
You can try out this summon once for 100 Gems, without having to meet any requirements. You can also receive a "Parchment Piece" as a bonus.
Once you've tried it, this summon will no longer appear on the summoning portal screen.
Featured Demons
The following 5★ demons will be featured for this round of Featured Summons.
5★ Herald Metatron (Grade: 99)
Annihilate enemies with Fire of Sinai!
Aragami
Protector
Psychic
Elementalist

Transferable

Holy Wrath

Non-transferable

Infinite Chakra
Fire of Sinai

Awaken 

Mahamadyne
Salvation
Mana Gain
Repel Elec

Transferable

Spirit Drain
Mahapoisma
Maziodyne
Maragidyne
5★ Deity Vishnu (Grade: 97)
Use Avatar to better withstand enemies in protracted battles!
Aragami
Protector
Psychic
Elementalist

Transferable

Bufudyne

Non-transferable

Holy Wrath
Avatar

Awaken 

Megidolaon
Prayer
Null Weak
Repel Dark

Transferable

Mortal Jihad
Resist Mute
Wind Breath
Hamaon
5★ Genma Cu Chulainn (Grade: 81)
Annihilate enemies with Gae Bulg!
Aragami
Protector
Psychic
Elementalist

Transferable

Savage Glee

Non-transferable

Mazandyne
Gae Bulg

Awaken 

Killing Wind
Recarmdra
Force Pierce
Repel Dark

Transferable

God's Hand
Mortal Jihad
Force Boost
Resist Light
Additional Information
-The Lineup for Featured Summons will change regularly.
-Please note that there may be changes made without prior notice.
-"SHIN MEGAMI TENSEI Liberation Dx2" Operations Team