Thank you for playing "SHIN MEGAMI TENSEI Liberation Dx2".

Here we would like to introduce to you our upcoming New Race Debut Summon.

The New Race Debut Summon will be replacing the next scheduled Featured Summons, and will become available after the purchase of Gems or certain Packs.
All 5★ demons including the upcoming Jaki Black Frost will be available, and will have a drop rate that is six times higher than usual for 5★ demons!
You can also try out The New Race Debut Summon with a one-time only Trial 10x New Race Debut Summon at the price of 1,000 Gems.
Don't miss this chance to check out this special Summon!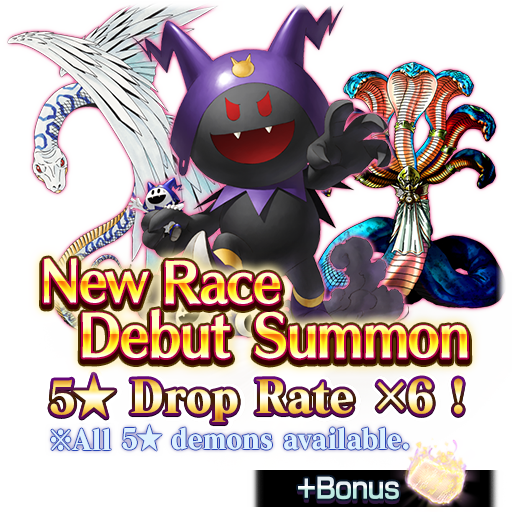 Schedule
After the maintenance on 10/18 (Thu) - 11/1 (Thu) 23:59 PDT
Parchment Pieces
A "Parchment Piece" will be sent to your Gift box every time you summon a demon through Featured Summons. ->
Trial 10x New Race Debut Summon
You can try out this summon once for 1000 Gems, without having to meet any requirements. You can also receive 10 "Parchment Pieces" as a bonus.
Once you've tried it, this summon will no longer appear on the summoning portal screen.
*The Demon Drop Rate is the same as the "New Race Debut Summon ".
5★ Demons
The following 5★ demons will be available for the New Race Debut Summon.
Jaki Black Frost (81)
Dragon Quetzalcoatl (80)
Avian Garuda (80)
Night Lilith (80)
Genma Cu Chulainn (81)
Fury Susano-o (82)
Megami Ishtar (82)
Deity Amaterasu (82)
Herald Mastema (83)
Lady Asherah (83)
Kishin Thor (83)
Tyrant Surt (83)
Snake Ananta (83)
Hero Siegfried (83)
Avatar Barong (84)

Vile Seth (84)
Fallen Samael (84)
Megami Lakshmi (85)
Fury Zaou-Gongen (85)
Dragon Huang Long (88)
Fiend Alice (89)
Herald Michael (90)
Tyrant Mara (90)
Fury Shiva (93)
Fiend Trumpeter (94)
Deity Vishnu (97)
Hero Yoshitsune (97)
Tyrant Lucifer (98)
Herald Metatron (99)
 
Please check the info page within the game for details on available demons and drop rates.
Additional Information
-Please note that there may be changes made without prior notice.
-The lineup for available 5★ demons does not include Non-summonable demons.
-Demons that are not part of the lineup are unavailable.
-"SHIN MEGAMI TENSEI Liberation Dx2" Operations Team